Driving rain wasn't the best condition to hang around in running gear waiting to go but thankfully it subsided to gentle drizzle which ended up being perfect for running. Dan Clark had his last warm up run taking part in the Boston Half Marathon the previous weekend where he surprisingly managed to get a new PB, Well, he did the same in London too. Whilst also enjoying the sights Dan actually ran further than the marathon distance as he weaved to greet supporters along the way and crossed the line in style with a new PB time of 3.04.40.
Tanta Knight was also back on the starting line having secured a Good for Age entry the previous year. She ran with her friend and they pulled each other along for the first twenty miles. Despite her calves starting to cramp, Tanya kept going and pushed hard in the last mile to cross the famous finish line in a new PB time of 3.39.26.
Sarah Barnes was lucky to get a ballot place and decided to use it as a fundraiser as well. Her chosen charity was RNLI and so far she has raised about £700. Sarah was buzzing about her first ever marathon and a meticulous training plan saw her cover over 540 miles in 24 weeks. Most of these was run with her running buddy Rachael Batterham. Sarah's splits were perfect and she kept a steady pace throughout being pulled along by crowd lined streets. An emotional finish line saw Sarah complete her marathon in a PB time of 4.27.57.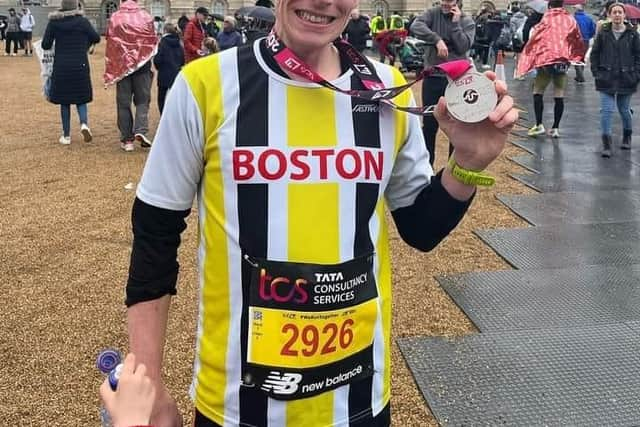 Matt Tunnard, like many others, had spent years trying to get a ballot place but it was never meant to be so this year he took a charity place raising funds for the Lincolnshire and Nottinghamshire Air Ambulance. Again, Matt set himself a good training plan to gently build the distance up. With family and friends dotted around the course he kept things going at a nice steady pace and was very pleased to round that final corner at Buckingham Palace and head down to the finish line. Matts first official marathon gave him a PB time of 4.53.56.
Emily Presgrave managed to secure a charity place too and set herself a real challenge having never done a distance like this before. Her chosen charity was Guide Dogs and she managed to raise over £3150. Emily loved every second of it and made the most of what was a very special day. Crossing the finish line with a huge smile she stopped the clock in 6.39.00.
Boston Community Runners are a running club for all abilities and distances. They also offer a RunWalkRun group and a Walking with Purpose group. They meet Tuesdays and Thursdays at about 6.50pm for a 7pm start from Peter Paine on Rosebery Avenue and also arrange weekend social runs. For further information about the club and it's activities visit www.bostoncommunityrunners.co.uk or search Boston Community Runners on Facebook.