​The pair completed their qualifying in second place and were to start the first race on Sunday from a front row grid position alongside Kershaw/Charlwood. But the weather put paid to their race as heavy rain halted some of the solo races and the sidecar race was cancelled due to lack of time.
The teams were given a warm up on Monday morning and then sat it out until the end of the day with fingers crossed that their race would go ahead. There were no holdups and the riders were called to the track for a 5.30pm race start.
As they lined up it was announced it would be a 12-lap race instead of the planned 10 laps and as the lights went out it was the Christie brothers who got the hole shot into the first corner with Ellis and Clement hot on their heels and Kershaw/Charlwood in third place.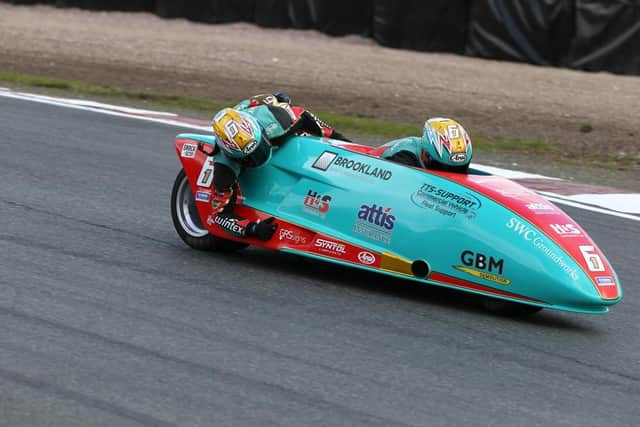 The top three immediately pulled clear of the pursuing pack and on the second lap Ellis/Clement took the lead at Island Bend. They posted the fastest lap on lap two, bettering it on laps three, four, five and six on their way to establishing a five second lead over their rivals.
On the final lap they slowed slightly and took the chequered flag for the win with a 4.809s advantage over Kershaw/Charlwood. They posted their fastest lap on lap six with a 1m 43.263s - 93.85mph.
Ellis said: "It's nice to finally go out and get on track after yesterday's shenanigans. It takes a bit of getting into the mood really after having so much time off the bike and sat watching it rain out the awning window. I really had to gee myself up to ride the bike and not think about driving the van home instead! But once we got going everything went to plan and we enjoyed the race."
The team travel to Germany for their next race which is the opening round of the FIM World Sidecar championship when they will begin the defence of their title at the Sachsenring circuit on May 13 and one week later return to the UK for round two of the British Championship at Donington Park on May 20/21.