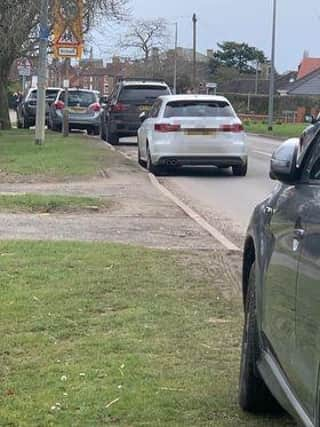 A local man with children attending Horncastle Community Primary School, on Bowl Alley Lane, who wishes to remain anonymous, is urging parents dropping their children off during the school run to take more care after seeing dangerous maneouvres in the vicinity of the school, and said the area is an "accident waiting to happen".
The problem, he has said, is when children and parents try to access the school's top school gate by crossing the Louth Road
He said: "I can't express enough how dangerous it is to cross the Louth Road with the constant flow of traffic every school day in the morning and from 3pm onwards until all the school children have been picked up.
"There are vehicles doing U-Turns in Lancaster Avenue and Tanglewood nursing home, parked on both sides of the road past Tanglewood.
"The bus stop is being used to drop the children off and with traffic pulling out of Hemingby Lane in the morning it also makes the situation worse. If you have just dropped your children off at school, please let the parents trying to cross over the road safely."
The father has said he has seen some close calls with parents trying to get their children across the road, and he himself was nearly clipped by a parent who started moving away from the kerb and did not see him.
"Without having a crossing patrol, zebra crossing, or children crossing signs as with all the traffic, it's an accident waiting to happen," he said.
I fully appreciate that some parents/ children may have mobility conditions that may make it more difficult to walk or have to get to work and may have to park as near as possible to school, but do so safely, and the very small crossing point isn't good enough to cope with the amount of parents and children needing to cross.
"If you have just dropped your children off at school, please let the parents trying to cross over the road safely."
Horncastle Primary School acting headteacher Mrs Kelly Cox said that the school has been in touch with Lincolnshire County Council to discuss the possibility of having a crossing on Louth Road.
"This is something we've flagged up to parents in our newsletters," she said, "Parking has been made more difficult at the moment with the building work going on at St Lawrence School, but we always ask parents to be considerate and look out for pedestrians when they are driving, and to try and walk to school if possible."
There are large lorries coming from the businesses down Hemingby Lane along with lorries and other vehicles from Lincolnshire County Council site and cars or lorries won't be able to see small children.
A spokesperson for Lincolnshire County Council's Highways department said: "We are always open to any suggestion about road safety and if any resident feels that an improvement could be made, then we would be very grateful for their comments.
"In the first instance, the very best way to start the process of assessing an idea such as this is to go through the local councillor. They will be able to submit any ideas such as this to our planning service for the initial assessment and scrutiny."