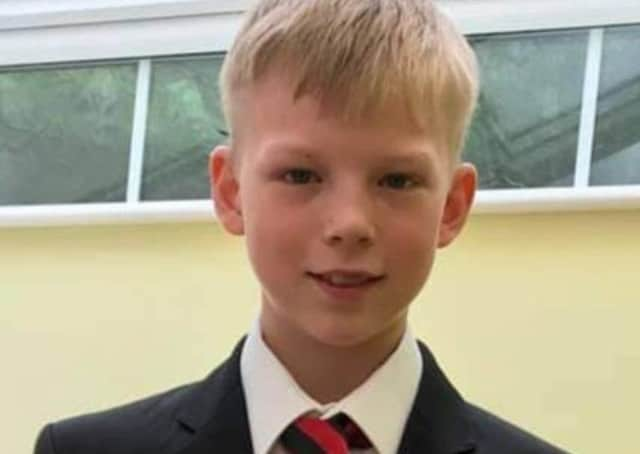 Kayne Delee has injured eight hours of surgery since being hit by a car on April 28
Kayne Delee is being treated in Sheffield Children's Hospital after the incident last Wednesday (April 28).
The 12-year-old was hit by a car as he crossed Grimsby Road in the town at around 9.50pm. The car didn't stop at the scene.
Family friend Michelle Clarke said the whole community had been left 'shocked and saddened' by the incident.
She described Kayne as a 'bright, thoughtful and lovely young man who has his whole life ahead of him' and, with his mum Angie's permission, has set up a fund to help his recovery.
Michelle said: "He has a long road to recovery ahead of him and I think if we could make it a bit more bearable for him, keep his spirits up, encourage him to keep going when times are difficult, then that will go a long way to getting him better.
"His favourite team is Tottenham Hotspur; he loves anything Fortnite related and loves books.
"We just want to help in any way we can. Any donation would be greatly appreciated so we can try and get some of these things he enjoys."
Michelle's initial aim was to raise £500, but by the time we went to press, the figure stood at £1,810, with individual donations ranging from £5 to £100.
Michelle said: "We are totally overwhelmed with everyone's kindness and generosity. It's unbelievable!"
Just a week before the incident, Kayne was celebrating his birthday and he has since endured eight hours of surgery in one day.
A student at Caistor Grammar school, head teacher Alistair Hopkins said how sad everyone had been to heard the news about Kayne.
He continued: "The family has kept us up to date with his progress. We were all pleased to hear that he was recovering after the initial news.
Friends and staff have sent him goodwill messages and we look forward to his eventual return to us."
Police have renewed their appeal for anyone who witnessed the collision, or anyone who may have CCTV or dash-cam footage, to come forward and assist their investigation.
A police spokesman said it is now believed a silver Honda was involved in the collision, rather than a BMW as previously stated.
A 27-year-old man arrested in connection with the incident has been released on bail pending further enquiries. A police spokesman said: "We are urging anyone who potentially saw the car on the night of the collision, to come forward.
"It may be that you have dash cam, a 'Ring' doorbell, or CCTV footage that captured the silver Honda and could be helpful in our ongoing investigation."
Detective Sgt Emma Ward, of the Serious Collisions Investigation Unit, added: "This collision involves a child, who is now potentially facing life changing injuries. The impact on him and his family is devastating.
"It is vital that we have every piece of information available to help us investigate this meticulously and thoroughly.
"If you were in the area of Grimsby Road, please consider reviewing any footage you have that might have captured evidence that is crucial to our inquiry."
Contact police on 101, quoting incident 423 of April 28 or email [email protected] putting "Incident 423 of 28th April" in the subject line.
To make a donation to the fundraising page for Kayne, visit www.gofundme.com/f/kaynes-recovery