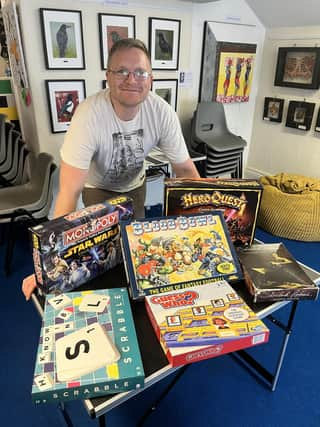 ​Sam Evardson has launched a Tabletop Games Night at the NTKO Gallery on Eastgate every Tuesday night, not only so members of the community can come together to play a selection of board games, but also to come to a safe space to talk about their mental health.
Sam felt inspired to offer this evening for the people of Louth after overcoming his own struggles and volunteering at the Priory Hotel, run by Paul Hugill MBE, who he described as "an inspiration":
"I saw what Paul does for Louth from the Neighbour's Kitchen and I wanted to do some good work for Louth like him," he said, "I started volunteering at the Priory and decided I wanted to do some good in the town too."
Having already owned a huge selection of board games, Sam approached the team at NTKO Gallery to see if there was the scope to offer a games night to get people out of the house to socialise during the week – and the games night was set up, running from the gallery on Tuesday nights between 6pm and 9pm.
As well as traditional board games like Monopoly, Scrabble, and Guess Who?, there are also plenty of fantasy games including Dungeons and Dragons, and guests are also welcome to bring their own.
He said: "I've moved away from Louth before, but I just keep coming back and I want to make it a better place.
"It's been great so far because people have been coming in and opening up about their mental health, which is what we want."
There are plans in the pipeline to approach board game businesses to support the initiative, with any money raised going towards NTKO's plans to become a CIC.