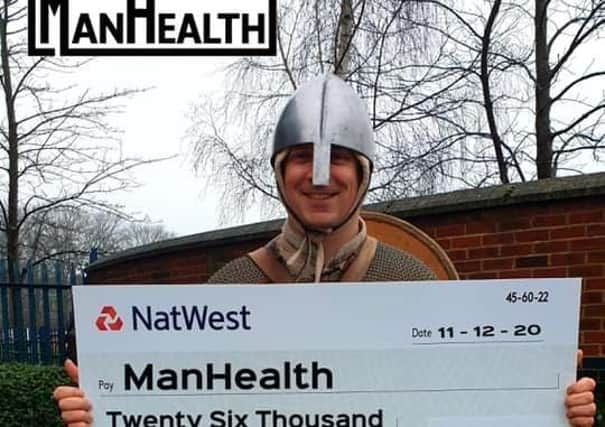 A history fan who walked 310 miles in four-and-a-half stone of medieval armour – passing through Sleaford as he made his way from York to Battle, Hastings – has raised 26,665 for mental health peer support.
After battling through depression and anxiety thanks to his hobbies in medieval swordsmanship, Lewis Kirkbridge, 38, set himself the solo challenge based on King Harold's desperate march to defend the kingdom in 1066.
The father-of-two from County Durham completed his 1066 Battle Walk this September to October in aid of ManHealth, the men's mental health charity.
"Putting on that armour day in, day out, knowing I had to carry that weight on my shoulders for 20-plus miles, was a bit like putting on a brave face when you're weighed down by anxiety or depression every day; but it helped get the message out there, and people proved how kind they are when you ask for help – what they did was jaw-dropping: paying for places to stay, feeding me, driving miles to help me out, and telling everyone who'd listen all about my challenge," he said. "People have created special merchandise for the challenge and donated profits from sales; they've done their own sponsored challenges to contribute to the total; they've crowdfunded extra donations so that ManHealth could keep my shield; they've petitioned charity funds and parish councils for donations; and one family even contributed donations in place of funeral flowers, in memory of one follower who sadly passed away before he could see me finish in Battle."
"The £26,665 is enough for them to start five new peer support groups, supporting hundreds of men and filling that gap when they have nowhere to turn," he added.
For more information on ManHealth's peer support groups, training and web-chat services, visit https://manhealth.org.uk