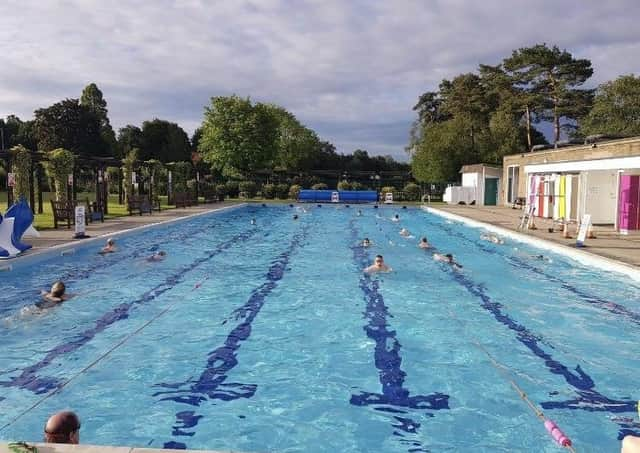 Swimming (stock image)
Having managed to mobilise a very focused and dedicated workforce at short notice, Jubilee Park was delighted to be one of only three pools in the country able to open their doors on Saturday (July 11).
Park Manager Joe Stanhope said: "Within minutes of the announcement that open air pools could open, phones were ringing and queries poured in on social media.
"It's been wonderful to welcome members and visitors back to our great new poolside facilities and we look forward to getting our gym up and running later this month."
Kim Barr and Jude O'Kelly. EMN-200714-120348001
"Our first priority is people's safety and the safety of the local community.
"We are following government guidelines to ensure our facilities are safe to all those wanting to come and visit us."
To comply with the new guidelines, fixed time swimming sessions at the pool have to be pre-booked online or by phone and restrictions are in place in the pool to enable social distancing.
The self-supporting park had just completed the largest investment in the site for more than 40 years when Covid-19 hit.
The gym will reopen on July 25.
The new state of the art fitness suite had only been open a few short weeks with a loyal and growing following.
Trustee Jon Finley said: "We are structured to reopen our fitness facility on July 25.
"We will be doing it in very much the same way we are operating the pool at the moment in that we will be offering probably 50 minute fixed time slots which will be pre-bookable online
"We use an app to manage our fitness suite membership which all of our members have access too, so they will be able to book via the app as well as online.
Jon Finley. EMN-200629-161526001
"Looking at the guidance, we will probably be limiting it to a maximum of nine people per session so that we won't be overcrowded and so people can maintain social distancing.
"All of the equipment will be available and we will be operating an appropriate cleaning regime between each session and during sessions.
"We will have plenty of sanitising capability in the fitness suite at all times and we will also be asking users to give the equipment a clean down after they have finished using it as well.
"We had been open six weeks before lockdown came.
"We were just getting started and it all stopped.
"The benefit was we were able to freeze membership so nobody is out of pocket.
"Anybody paying by direct debit has had their payment frozen and we've written to everyone to say we are reopening.
"We have also said that we understand that some people may not feel ready to come back yet and so for those people we can talk about extending the period that we freeze their membership for.
"If you are really not comfortable still, let the team know and we can talk to you about the options.
"Home workouts are good but they don't tick all the boxes.
"Our fitness advisors are desperate to get back to work."
Jon echoed the sentiments from Joe Stanhope regarding the reopening of the outdoor pool.
He said: "The pool is open and online booking is fully active - the whole system is operating very well.
"The feedback we are getting back from users is very good.
"We are very aware that we were one of only three pools in the country that were able to reopen on Saturday.
"We've had people coming from far and wide to use the facility."
The Trustees also want to say a special thank you to the volunteers who kept the park gardens looking so beautifully kept while all staff were furloughed.
Jon said: "Volunteers went above and beyond to keep the gardens and the whole site in good order during lockdown.
"The whole community owes them a huge debt of gratitude."
Other improvements at Jubilee Park include a complete refurbishment of the changing, showers, toilets and reception areas and colourful outside lido-style cubicles for pool users.
Although things are getting back up and running for staff. Jubilee Park isn't in the clear yet.
With most of the planned events having been cancelled this season - including the annual 10k and family fun run - combined with substantially reduced capacity in the pools and the caravan site, revenue for the park is very restricted.
Jon explained: "From our perspective we are not out of the woods yet.
"We are still very restricted on revenue so we need everybody's support to get through this.
"Don't think just because we are open that everything is fine and dandy - it is not and we really need people to be with us in every way they can."
Recently, Trustee Kim Barr and her friend Jude O'Kelly decided to run their own personal 10k to raise funds to put final changes to the new main entrance- special fencing alongside the new access ramp.
With over £700 raised, the new fence was soon up and in place.
Kim said: "The best way for our supporters to help us weather this crisis, apart from using the facilities, is to fundraise in some way.
"Every penny donated will help us to keep going until we can trade to our full potential without any restrictions."
Jubilee Park is also looking for volunteers who play a crucial role in the day to day running of the park.
Jon explained: "Volunteers are our lifeblood and so if there are people out there who have thought about volunteering for a local charity please think of us.
"Get in touch with us via our website or on the phone."
For more information, visit www.jpws.co.uk, search for Jubilee Park Woodhall Spa on Facebook, or call 01526 353478.