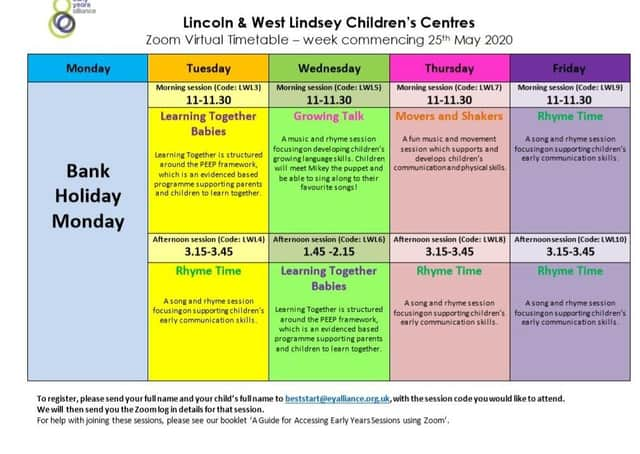 The Early Years Alliance is currently running 40 Zoom Early Years sessions for families to access from across the county, with plans to increase sessions from June 8.
Five webinar sessions are broadcast every week, in the form of Story Sack sessions, Rhyme Time sessions and Activity Fun sessions.
Charlotte Whalley, operational manager for Early Years Alliance, said: "Sessions are planned to mirror what we would be delivering in the Children's Centres through our Best Start service as best as possible.
"Twelve families join an Early Years Educator, and participate in a session such as Rhyme Time or Movers and Shakers, for example.
"We have established a robust and secure booking system which allows families to book up to two sessions per week, and each session has a unique session code.
"In addition, we are providing sessions planned on a bespoke level for individual families or small groups of families."
There are plans to launch sessions for families who have had a Covid-19 baby born during this time, and also for families where their children are due to make the transition to school in the next academic year.
Charlotte added: "Other sessions provide a bespoke level of support around learning and development for families that have been professionally identified."
They have also developed a series of webinar broadcasts, now available on YouTube, which complement the Zoom sessions.
Search 'Early Years Alliance' on YouTube to find the catalogue of broadcasts.
Families can find the links on the 'West Lindsey Children's Centres - Rural' Facebook page.