Reverend David Cotton, the Saxilby representative, will be having his leg amputated above the knee after years of problems.
He has represented the ward as a Liberal Democrat for 23 years.
Colleagues from all parties paid tribute to the experienced member at his final meeting at West Lindsey District Council, which was held at the Guildhall in Gainsborough.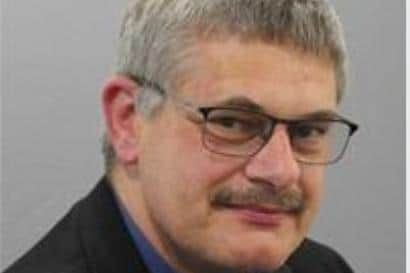 Coun Reverend Cotton told the meeting: "I am sorry to say I won't be standing again in May.
"As colleagues know, I have been having a tough time with my disability, and I've been offered a bed in Boston Pilgrim Hospital to have my leg amputated above the knee.
"One of things I learnt very early at West Lindsey District Council is we are all family.
"It matters not about your political party, I count everyone in the chamber as friend.
"Hopefully, I will eventually bounce back with an electronic leg."
Coun Reverend Cotton first stood for election to West Lindsey District Council in 2000 and has held many roles and positions during his time at the council.
Speking to Coun Reverend Cotton at the meeting, council leader Coun Owen Bierley, said: "I have had the privilege of working alongside you since I was first elected, and that has been entirely positive.
"I have learned an awful lot from you. You will be greatly missed by many colleagues, and thank you for everything done for West Lindsey."
Coun Jeff Summers described him as a "leading light on the council."
He said: "I have known you for 21 years and it has been 21 years of friendship.
"Anyone only needs to listen to your contributions at the Planning Committee to hear how seriously you have taken your role."
Coun Jackie Brockway, his fellow ward councillor for Saxilby, said: "I know you have been waiting for this operation for long time, and have suffered great deal due to the delay."
Coun Trevor Young said: "This will be a loss for Saxilby, as you have a wealth of experience. You have always been at the end of a phone or in the community, and I hope you will be back."