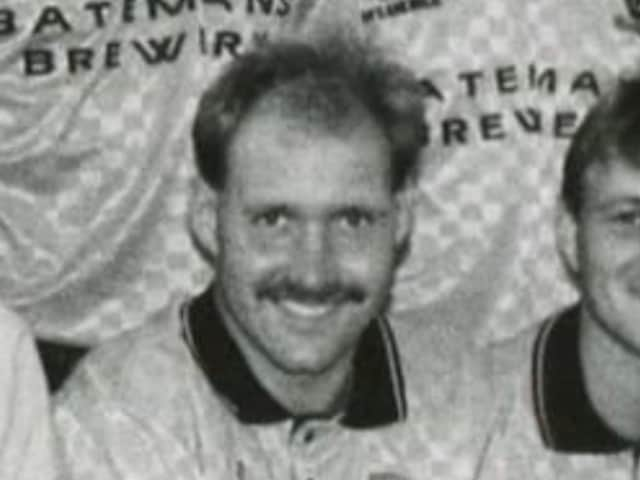 Signed for £10,000 from Worksop Town in 1988, today's Pilgrim in Profile played over 400 games for Boston in 11 seasons with the club.
A year's break at Matlock bisected two five-year stints at York Street as the defender scored 36 goals and whittled his fee down to less than £22 per appearance, enjoying a testimonial season ending in an Old Boys game in May 1999.
He then returned for a brief third stint the following Autumn.
Martin Hardy was signed in June 1988 from Worksop for a five-figure fee as manager George Kerr looked to improve on the previous season's 16th place finish - and succeeded.
The Pilgrims' reached third, their highest placing in the Conference since it's beginnings in 1979, Hardy missing just nine games on the way to 44 appearances and two goals- both in 3-2 home wins, against Macclesfield and Northwich.
It had taken the former Notts County man just a couple of months to establish himself as a first team regular, and he would remain first-choice at the back for another four seasons; but United's league stature slumped.
Hardy was again virtually ever-present in 1989-90, missing just three games as United finished a disappointing 18th. An opening day brace at home to Farnborough promised more goalscoring promise than Hardy would deliver - he added just one more goal that season.
Boston finished in 18th once again the following season, Hardy racking up another 40-plus starts. His 100th appearance came around - just two years and two months after his debut - in September 1990 and Martin added five goals to his record, including his first for United away from home (at Fisher Athletic in December).
Dave Cusack's second full season in charge saw an upturn in fortunes for United as they finished eighth and once again Hardy added another 40 appearances to his Boston record. The Pilgrims were highest goalscorers outside the top Conference top three and Martin chipped in with four, all after Christmas, contributing more to the club's 19 clean sheets.
The following campaign was the last of Hardy's first spell at Boston, and the last of the club's stint at the top of the Non-League pyramid. Manager Peter Morris had promised to get United out of the Conference in 1992-93 and he was true to his word: the Pilgrims were relegated, rock bottom and nine points from safety. Martin was released at the end of the season after 223 appearances and 17 goals.
After a season with league rivals Matlock Town (who named him their Player of the Year) new boss Mel Sterland persuaded Hardy back to Boston in time for the 1994-95 season. He started every game through to early April, one short of 50 appearances and a single goal to his name (again at home as United finished fifth).
Hardy went one better in 1995-96, reaching fifty appearances with 18 clean sheets, including an impressive run of seven clean sheets in eight through late October and November as United conceded just once in six-and-a-half weeks. During that run the Pilgrims briefly topped the Northern Premier League table, however come May it was Bamber Bridge who took the title by a single point. United had won three more but lost an extra seven and the Lancastrian's 16 draws gave them the edge.
Hardy missed just five games and scored seven times - for the first time in his United career registering more strikes away than at York Street.
Cup involvement had impacted the Pilgrims' league position and United finished sixth, but 1997-98 saw them restore their Northern Premier stature, finishing second (this time behind Barrow). Hardy didn't miss a game until December, reaching 400 Boston appearances in the process, and again played 40 matches for the ninth season in a row. Continually racking up clean sheets, his record went beyond 120 shut-outs in his ninth year with the club.
The 1998-99 term was Hardy's 10th and final full season with United and as in the other nine, Hardy reached 40 matches once more. His second spell surpassed the number of appearances in his first (223) and he scored five times to reach a career tally of 36.
United had been moved to the Southern Premier League, and Boston again finished second- this time 23 points behind Nuneaton.
1998 had been designated as the defender's testimonial season (to mark 10 years after his debut) but hopes to secured Premier League opposition saw his fundraising match delayed to 1999. This did not work out, however, and a squad of Old Boys was assembled. Now 36, Hardy scored a second half penalty as the current squad lost 4-3 to the strong former players team - in their defence the majority of the side had faced Worcester City 23 hours previous.
And that was expected to be that for Hardy and Boston United, but the travelling support at Burton Albion the following October were surprised by the former captain's inclusion on the bench for a midweek league tie. Unhappy at Worksop, Hardy returned to fill a gap in Steve Evans' side and made four appearances, his last a start at Leigh RMI in the FA Trophy.
Many knew Hardy by his nickname 'Tex' and the defender explained this originated from the 'checked shirt, jeans and riding boots' he once wore to a winebar after finding his preferred pub in Sheffield had shut for refurbishment.
Hardy's Boston career stretched from 1988 to 1999 as the defender played over 450 games against 113 different clubs for seven different managers. His 36 goals came against 32 different clubs, 23 at home and 13 away.
Rob Singleton summed up his career in the programme for his testimonial: "He has turned in hundreds of consistent and full-committed displays, overcome several scrapes and knocks, played through all types of niggling injuries- and netted a good return of important goals into the bargain. Basically, he is everything a good skipper should be: a leader by example."