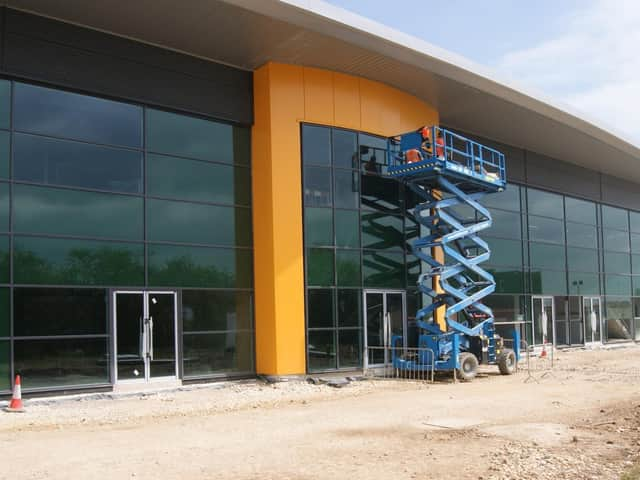 David Newton admits the Jakemans Community Stadium will offer a different experience to life at York Street, but he remains positive Boston United will deliver fans the 'best ground we can'.
Work continues at the Pilgrims' new stadium on the south of the town as the club targets kicking off next season in new surroundings.
And while the new home brings a new experience, club chairman Mr Newton wants to make sure it is a positive one.
"The aim is to give them the best ground we can," he told The Standard
"It's going to be new, very different to York Street, but I'm hoping people are pleasantly surprised when we've done what we're doing.
"It is all about now. We want hospitality as well, obviously, making sure we do everything as well as we can within the budget we're working with."
Moving home is part of the plan to make the football club move with the times and become self-sustainable.
The Pilgrims have a groundshare option with an unnamed club in place if the stadium is unable to be ready for next season, but Mr Newton aims to have the 'key elements' - changing rooms, ticket office, turnstiles and terracing - in place to allow next season to begin at the Jakemans Community Stadium, part of the Quadrant development which includes adjacent housing and retail units.
"It's still a big ask but that's what we're working towards," added Mr Newton.
"We're still managing the COVID (regulations) on site now, but there are some issues around getting materials in construction at the moment, and we've experienced that at the stadium.
"It's a big ask but we're doing our best. Everybody's focused on being ready.
"That's still the aim, to get all the key elements there to enable us to play games there."
While work continues on the stadium, it is hoped green shoots of grass will soon be appearing on the pitch.
"It was seeded last Friday, it's been down a week now," Mr Newton added.
"The weather's been great for that and so it should start going green in the next couple of weeks.
"That'll make it look more like a football stadium. We're getting there, working hard to make sure it's ready for the start of the season.
"Jim Portas (groundsman) is working on it as well. Hopefully, we'll have a really good playing surface for next season."
"We're still focused on the same things as day one, trying to make the club sustainable and have a decent future.
"It's taken a lot longer than anybody thought but we've had the longest recession on record since the 1930s in there as well, nearly seven years, now we've got COVID.
"We had flood risk issues for two or three years when we were trying to take the Quadrant through, so it's been pretty much one thing after another but we're gradually getting there.
"We want to have the stadium finished but at least we'll be well on the way. We'll have the West stand and the North stand open and something to build on thereafter."