Aaron Silvester crashes out of title contention at Brands Hatch
​Aaron Silvester concluded the British Superbike season with two crashes at Brands Hatch last weekend to see his title hopes ended.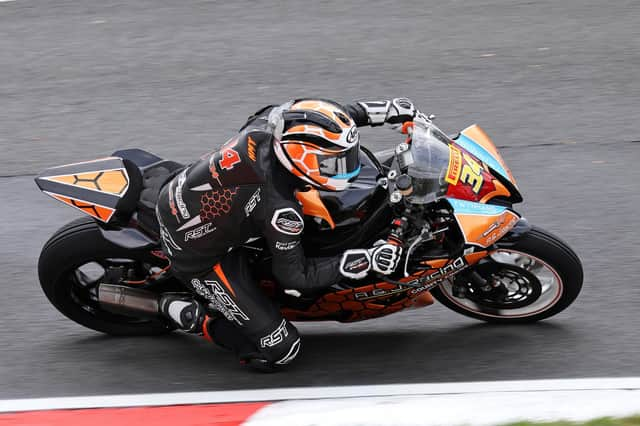 ​The Horncastle rider was still in contention to win the title outright, starting out 15 points behind leader Owen Jenner. But it wasn't to be as Jenner ultimately took the crown.
Despite torrential rain during Friday's practice, Silvester mastered the tricky conditions to take third place overall and in Saturday's damp qualifying session, he finished highest of the championship contenders in fourth place to gain the advantage going in to a wet race one on Saturday afternoon.
Silvester made a fantastic start from fourth on the grid, going around the outside of three riders at turn one to take the lead.
But as he looked to break away at the front and open up a small gap, coming through the final corner at the end of lap one his rear tyre spun up on a wet patch. The bike stepped sideways and he was flicked up in the air and out over the front of his A&J Racing Yamaha which ran over his arm as they both slid along the tarmac.
It was a huge crash and initially it looked like Silvester had badly damaged his wrist but he was able to walk away from the incident and the circuit doctors confirmed that nothing was broken, although Silvester had a laceration on his right elbow.
The bike was badly damaged, slamming in to the safety barrier almost head on, so the team had a big job to rebuild it overnight.
Silvester's championship hopes were over, as Sam Laffins went on to win the race and with Jenner fourth, he couldn't be beaten to the title.
On Sunday morning, Silvester felt OK to race but on the opening lap crashed again, thankfully not suffering any further injuries.
It was a frustrating end to the season which promised so much for so long but it has still been an incredible year for Silvester and the A&J Racing Team.
Having led the championship for all but the last two rounds, he dropped to fourth in the series at the end but with three wins he was equal top with Laffins for the most wins this year.
The Junior Superstock championship will not run next year so Silvester is now considering his options for the 2024 season. If you would like to support him in 2024, You can donate to or contact the team via www.makeachamp.com/aaronsilvester34. ​​​​​​​​​​​​​​​​​​​​​​​​​​​​​​​​​​​​​​​​​​​​​​​​​​​​​​​​​​​​​​​