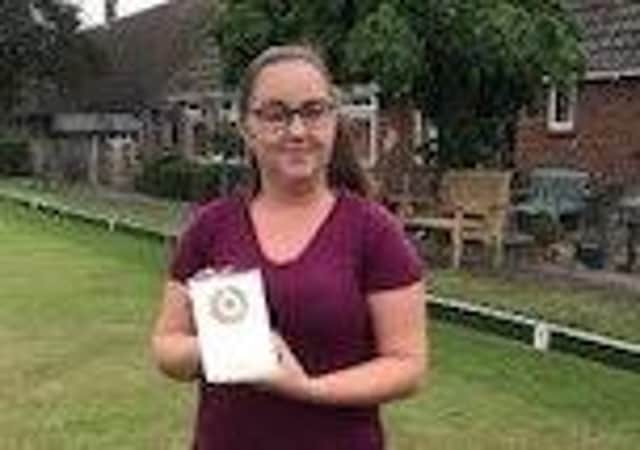 After 408 matches in the league and around 34,000 bowls, the title went down to the wire in the Green Group.
Dave Toynton and Helen met in the first game.
Helen started well and was still in front at 14 ends 13-8, Dave pulling it back to level at 13-13.
Helen replied with a three of her own on the next end leaving Dave three down with three to play.
Dave got back to one down with one to play and the final end was decided by a measure which drew him level.
Both players earned a point but if they were to be tied at the end of the week, Helen would finish above Dave thanks to her extra end win.
The next match in the group saw Helen take on Michael Gooderson, who was making his debut in the top Division.
Helen went on to win 28-9.
Dave met Michael knowing whwat he had to do to win the title.
After five ends Dave lead 5-3. By the time they got to the 10th the lead had stretched to 13-7 and was still on track at the 15th 20-7. By the 19th end the lead was 16 shots, and four more were needed to win the title.
But a stroke of luck went Michael's way as Dave was holding three shots which would have given him the end to get one shot, but Michael came off a side wood to win the end and the title was taken out of Dave 's reach.
The final score was 25-9, Helen winning by three shots.
In the Blue Group, John Thorogood hung on to beat Janet Loughran 19-15 while Pete Sharman defeated janet 25-6.
Peter beat John 18-15 to finish top of the group, fourth overall, with John fiftha nd Janet sixth.
In the Orange Group, Ted Bloodworth beat Bill Yuill 18-11 but lost 21-16 to Harry Maddison.
Bill met Harry knowing a win of nine shots would put him top of the group and If Harry lost by five Ted would win the league. It was close but Harry lost 18-17 to keep top spot, followed by Ted then Bill.
The Purple Group saw Ray Loughran beat Gordon Neal 20-14 while Trevor Dunnington played twice on Wednesday, beating Ray 20-13 and drawing 17-17 with Gordon as Trevor topped the group, followed by Ray and then Gordon.
In the Red Group Syd Oldfied beating John Mitchell 16-14 but lost 24-10 to Tony Hall 24-10. In the final group match John lost 10-23 to Tony leaving, John in 15th overall with Syd 14th and Tony top of the Division in 13th.