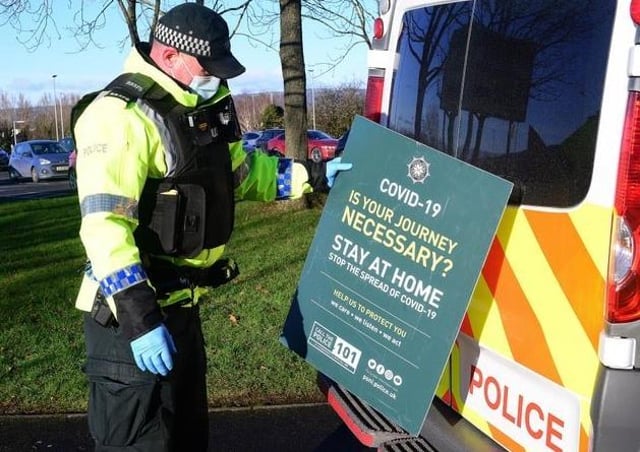 Police are having to cope with an increasing number of Covid related reports and incidents but are still tackling day-to-day crime as well.
Lincolnshire Police have operated the 'four E' policy during the three lockdowns with enforcement the last option.
That has led to some accusations of 'soft' policing from residents and political figures .
However, police warn they are facing an increasing number of Covid breaches.
Is ASB on the rise in Horncastle? The picture of fly-tipping sent in by Councillor Alan Lockwood
But the force says it is more than capable of coping - even though the pandemic is 'taking a toll' on officers.
Locally, police handed out fines totalling £1,600 to eight individuals who were found camping and partying in Ostler's Plantation near Woodhall Spa earlier this month.
The force has highlighted that breach - first revealed in the Horncastle News -in a statement to highlight the pressure on officers.
The statement reveals that up until last Friday,
police across Lincolnshire had handed out 754 fines for Covid rule breaches during the three lockdowns.
Local police check of a vulnerable household during lockdown
Although officers are facing increasing challenges dealing with the pandemic, the force insists it is still committed to tackling crime.
However, that statement comes at a time when some town councillors in Horncastle are claiming levels of anti social behaviour are increasing again.
The force statement explains: "As Coronavirus restrictions continue and communities continue to work together to keep each other safe, we would like to thank Lincolnshire residents who have been compliant with the lockdown rules.
"The majority of our residents have followed the Government guidance which has meant that our officers' time has been spent carrying out their usual calls for service - rather than spending time dealing with those breaching the rules.
"Some of our priorities include locating high risk missing people, dealing with daily incidents such as violence, road traffic collisions and tracking down our most wanted people.
"These are just a handful of our calls for service that fill our officers' time.
"Due to a majority of residents following the guidelines, we have been able to place more resources into various incidents.
"These have included an assault in Sleaford Road, Boston on Sunday (Jan 17), in which a man was taken to hospital.
" Officers swiftly arrested a man (28) and a woman (41) on suspicion of assault and they have since been bailed.
"And in our ongoing work to target high-harm offenders, we have also located six of our 'Most Wanted' people."
The statement goes on to explain there have been instances when officers have little alternative but to hand out lockdown fines.
It continues: "Fines have been issued to those who have shown blatant disregard for the rules and regulations.
"We have issued 576 fines from the beginning of the first lockdown in March last year, to January 17.
"Some of our most recent fines were given to eight people from different households who thought it was acceptable to have a party in a one-man tent in Ostlers Plantation in Woodhall Spa.
"On another occasion, a 45-year-old male was issued a fixed penalty notice during the early hours of January 9.
"The man drove from Chesterfield to do a countrywide road trip, to see the Lincoln City Football Ground."
Assistant Chief Constable Kerrin Wilson told the News she wanted to thank communities for their support.
She said: "We've got a brilliant community spirit across Lincolnshire.
"By and large, everybody has been patient and they are doing their utmost to make sure that we are looking after the vulnerable and being as safe as we can.
"We do have a number of Covid breaches that are increasing in Lincolnshire and that takes a toll on our officers to be able to deal with them.
"Some of them are quite flagrant breaches such as parties in the woods, or people travelling to go and visit a football stadium.
"That is breaking the rules, and we are dealing with those very robustly.
"But we do have a number of people who are bending the rules as well and that might be as simple as having an extra support bubble, meeting for a coffee or inviting somebody into your house.
"That's putting people at risk so it's those bending the rules that are actually adding to the potential spread of this virus
"I'd just urge you to consider that, because by and large, we have been really, really good in this county."
ACC Wilson described the roll-out of the vaccination programme as 'great news' but adds there is still a lot of work ahead.
She says: "We do need to be considerate of our behaviour, because there's still some hurdles to get through until we get everybody vaccinated.
"Until we do that, policing still needs to continue and I don't have a separate team of people who deal with all of Covid breaches.
" They are the officers who are preventing harm and serious injury and dealing with criminalities across the county, so they're dealing with organised criminals, they're dealing with drug offences, violent offences, domestic abuse, safeguarding children; all of that are the same officers, and I would prefer to send them to those people who are really in need, as opposed to Covid breaches.
"So,if you're not breaching, then I won't need to send people out but what I do want to say is a big, big thank you to everybody who is working with us to try and keep our communities safe."
The force statement was backed by local Wolds Division officers.
They say officers are tackling ASB - alongside dealing with an increase workload due to Covid.
Horncastle councillors expressed concerns at their recent monthly meeting.
Councillor Richard Barker said 'boy racers' were turning the town centre into a version of a 'NASCAR' racetrack.
After the meeting, Councillor Alan Lockwood sent an email to police - and to the News - stating he believed ASB was increasing.
He claimed some businesses had suffered from ASB but were fearful of reporting incidents because of potential reprisals.
Since the council 
meeting, police have also reported 'mindless' damage to two play parks in the town - at Prospect Street and Coronation Walk.
However, PCSO Nigel Wass stressed police were 'dealing' with the 'boy racers' and said ASB had not increased.
Speaking before Coun Lockwood's claims - and the play park damage - he told the council meeting there had been 'very few incidents' to report and patrols were on-going
He said: "Officers are making routine patrols and up until now there has been very little to report"
Regarding the boy racers, PCSO Wass said one individual had been identified and police were following up on other reports.
Coun Barker said: "I live in (the centre of) town now and the NASCAR race track is getting worse.
"There are at least three competitors.
"I know one has been identified and is being dealt with and I welcome the news about the patrols.
"I hope you find the person or persons in question who are hurtling around.
"You (police) may have them on your radar but you need to take these people off the road before someone is seriously hurt or killed."
Meanwhile, Coun Lockwood's email included a photograph of fly tipping in the town centre.
He said: "The anti-social behaviour of last year is beginning to rise again.
"You (police) will be aware of the problems shop owners are experiencing in Fleece Court, off the Bull Ring, due to anti-social behaviour from the occupants of a flat.
"What measures are being taken to remove these people?
"The business owners live in fear of them.
"If they report them their property comes under attack."